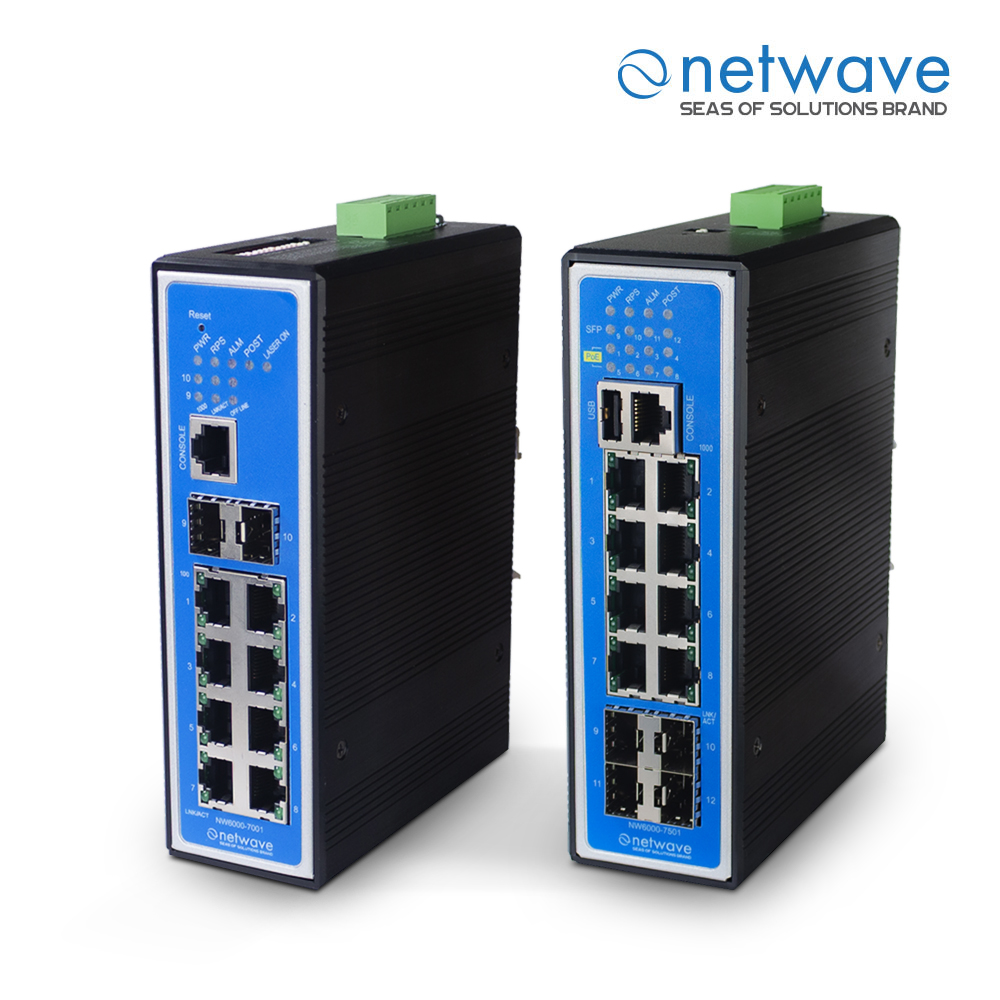 Netwave NW6000-7001 (Standard Switch) and Netwave NW6000-7501 (PoE Switch)
Netwave NW6000-7001 (Standard Switch) and NW6000-7501 (PoE Switch)
Seas of Solutions, through its operating company Netwave Systems BV, has recently introduced two types of maritime network switches.
What makes these switches so unique?
The NW6000-7501 is a Managed Industrial PoE+ Switch, perfectly suited for industrial network applications which require managed devices that offer hassle-free fiber deployment, and it is an ideal solution to deploy in automation as well as surveillance systems.
The switch is designed to meet the requirements of both power and data transmission over single Ethernet cable to PoE appliances and devices without the need for power outlets, eliminating additional cost of electrical cabling and circuits. The switch's rugged IP30 aluminum case and hardened components withstand in operating temperatures from -40℃ to 75℃.
The NW6000-7501 features with 4 Gigabit SFP slots to insert fiber port which is immune to moisture, static electricity, power surges and short circuits, plus 8 10/100/1000Base-T PoE+ ports. Each of the PoE ports complies with the IEEE 802.3at standard allowing them to supply up to 30W to satisfy the growing demand of high-power consuming network devices such as WLAN AP, VoIP phones and IP surveillance cameras, and other powered devices in longer distances up to 100 meters with Cat 5e cables.
The NW6000-7501 switch guarantees reliable operation in critical environments where vibration and shock are commonplace. Gigabit backbone and redundant ring increase the reliability of the communications and reduce cabling and wiring costs. Additionally covering operating temperature, power input voltage, surge, ESD, and vibration, as well as conformal coating and power insulation, making the switches suitable for a variety of applications.
The switches are tested against the harshest maritime conditions and meet the so-called IEC 60945 standards.
They have proven to withstand the EMC, environmental and physical influences they can encounter in the maritime world.
We have designed following versions:
NW6000-7001 (standard switch)
NW6000-7501 (PoE switch)