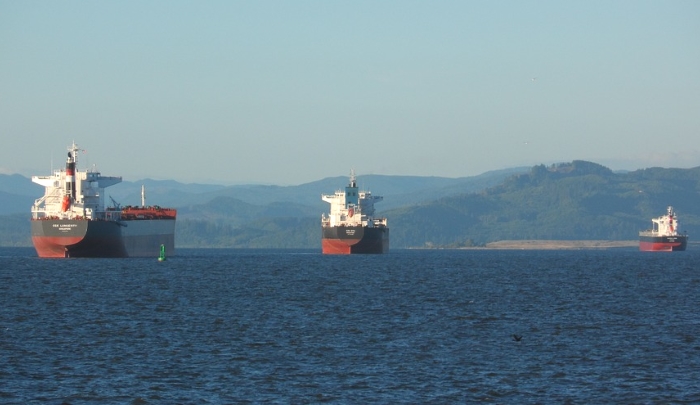 In Part I of our blog, Shipping: Is the Industry safer than ever, we discussed recent research that shows losses at sea in the shipping industry have been on a consistent downward trend over the past ten years.  That post reviewed historic regulations that have contributed to better safety at sea.  Today we will look at the more recent regulations and their impact on continuing to decrease losses.
AIS mandates and its new role in SAR
Automatic Identification System (AIS) receivers and transceivers have been used for collision avoidance since the early 2000s, but only recently has that the technology became viewed as a tool for search and rescue.  In 2010, search and rescue transponders (SARTs) became mandatory as part of the Global Maritime Distress Safety System regulations.  Then, in 2012, McMurdo launched the SmartFind S20, the world's first AIS man overboard (MOB) device, intended to notify nearby vessels of a man overboard situation.  In each of these cases, AIS provided a "local" search and rescue function in addition to the "global" 406MHz Cospas-Sarsat technology.  Distress signals from the AIS devices show location and positioning information on the chart plotters and onboard navigation systems of AIS-equipped vessel within a four-mile radius. So, instead of waiting for distress signals to reach satellites and potentially distant search and rescue authorities, local maritime vessels one be alerted, resulting in a more rapid response to an emergency situation.
Fire at sea
A recent report also revealed that ship fires pose the greatest risk to maritime safety compared to other types of maritime incidents, and focused in particular on the importance of external help when fighting fires on ships. The research revealed that communications connections pose a challenge in cases of fire at sea, with the greatest challenge being insufficient radio coverage within the ship's interiors.
In November 2012, the International Maritime Organisation's Maritime Safety Committee (MSC) set out a number of measures designed to improve fire safety at sea. Improvements include the mandatory provision of specific types of handheld two-way radios for firefighting operations: SOLAS (Safety of Lives at Sea) Chapter II-2, Regulation 10.10.4. This means ships must carry firefighting radios that are explosion-proof or are intrinsically safe. Vessels constructed on or after 1 July 2014 must already carry these radios, but for ships constructed before 2014, compliance becomes mandatory on 1 July 2018.
This latest mandate is likely to save even more lives over the coming years, and as the 2018 deadline looms for the mandated SOLAS regulations, owners and operators are looking for a reliable and hardwearing radio that will support firefighters at sea. During a potentially life-threatening situation it is imperative that emergency teams can rely on the very best equipment. The new SmartFind R8F from McMurdo, for example, provides the right solution.
What's next?
At McMurdo we will continue to lead on innovation, and have recently introduced a new family of EPIRBs that will accelerate the search and rescue process by combining multiple frequencies into a single EPIRB product. The McMurdo SmartFind and Kannad SafePro EPIRBs are the world's first distress beacons that can support each of the four frequencies used in the search and rescue process: 406MHz and 121.5MHz for beacon transmission, GNSS for location positioning, and AIS for localized connectivity. This multiple-frequency capability will ensure faster detection, superior positioning accuracy, greater signal reliability and, ultimately, accelerated rescue of people or vessels in distress.
The safety regulations and innovations in technology in the shipping sector as a whole will continue to evolve and increase safety at sea, and at McMurdo we are also seeing these technologies adopted across other sectors too – especially across the leisure marine industry and fishing. Individuals are becoming more aware of the safety equipment they need and how to protect themselves on the water, and we are likely to see even more lives saved over the coming years.  As Clarks Research reminds us, the sea always needs treating with respect.